Brief information in English for visiting boats
The marina in the lake Mälaren (59º 19.5' N / 17º 42.1' E) is situated on island Färingsö in Ekerö municipality west of Stockholm, and belongs to the boat club Båtklubben Färingarna. The boat club is a non-profit club, and it is managed entirely by club members.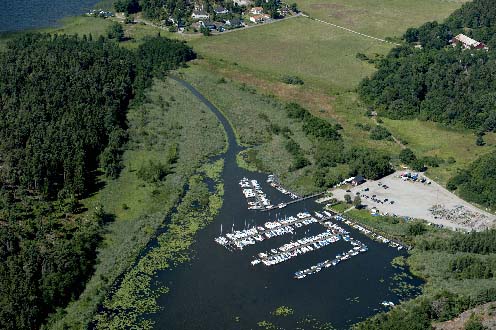 The marina is open for visiting boats during the summer season. You are welcome to visit the guest dock for up to 2 days. There are about 5 alongside moorings opposite the crane. The boat must not be locked! Toilet, fresh water and a toilet pump-out station are available. The boat club cannot provide any other services. There is no port fee, but voluntary contributions are gladly received.
The slipway is locked and can only be used by club members.
An approximately 450 meters long dug channel to the port has been dredged to just over 1.5 meters (5 ft) depth. The boat may not be wider than 3.5 meters (11.5 ft) and longer than 11 meters (36 ft).
Service: In Stenhamra, located 2 kilometers northwest of the marina, there is grocery store with mail service (daily open 9am-9pm), restaurant, pizzeria and ATM.